A Three Bedroom Summer Escape at Apogee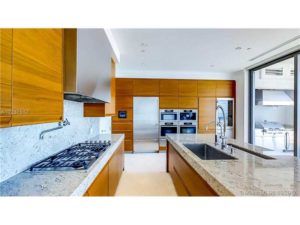 We're only a few days away from the arrival of May, which means summer will soon follow in June. If there is one place that's ideal for spending the summer, it's definitely Miami Beach. Thanks to condos like Apogee in South Beach, the perfect summer escape is just a matter of finding the right unit.
To help you find a summer condo home, we're highlighting Unit #2003 at the Apogee condo. This is a stunning flow-through unit with some of the most spectacular northern, eastern, and southern views. Admire the ocean, check out the mysteriously alluring Fisher Island, notice the various watercrafts on the bay or the dramatic skyline of Miami's downtown area. The unit has three bedrooms and bathrooms and boasts just over 3,000 square feet of living area. Limestone floors, stainless steel appliances, an open balcony, glass showers, the elegance permeates throughout the residence.
Apogee is among the most stylish of all the South Beach condos, with just the right of amenities to complement the absolutely incredible living experience. Work out at the fitness center, stay cool in the pool when the temperatures start to climb, there is lots to enjoy. You can also walk to the beach or explore the multitude of sights throughout the South Beach area.
This update is presented by the Miami Beach real estate team at Blackstone International Realty, specializing in Apogee South Beach. If you are interested in Miami Beach condos such as the Apogee South Beach condos for sale, call one of the Apogee experts at 305-588-2451 for information on sales and rentals.